Gardening for Wildlife
Collectively our gardens provide such a huge amount of habitat for wildlife and being able to nurture and encourage local wildlife can be very rewarding. Our resident expert in wildlife gardening is David Beeson who will keep you up to date with the happenings in his well established wildlife garden. David has a long standing involvement in ecology and has a degree and Biochemistry. He has taught and provided materials for many academic institutions including Cambridge University. David has also been heavily involved in The Otter Trust and helped organise a conference in 1976 which lead, indirectly, to the ban on otter hunting.
Nowadays David and his wife, Annette, are retired but still maintain their amazing eco-friendly garden…… handing over to David:
"Today many people are starting to develop a wildlife-friendly garden, but here at Forest Edge ours has been up and running for nearly twenty years now and we have a good deal of experience that we can share with others. Join us monthly, as the year progresses, to experience the ups and downs of an eco-friendly garden. Hopefully the articles will stimulate you to enjoy the 'added dimension' achieved by giving wildlife a space in your garden too."
David also runs his own blog at https://nwhwildlife.org/
Please note that the articles below were originally written in 2008 and 2009.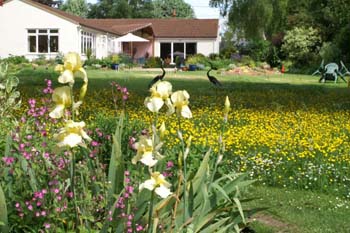 Christmas Present Ideas for Wildlife Enthusiast – So what will Father Christmas be bring your friends this Xmas? I know what I want! Bees. I had a brief, and painful…